Payment by credit
The interaction flow between the merchant and Yandex.Checkout when the order is paid using credit (paymentType=KV) differs from the basic scenario.
Interaction flow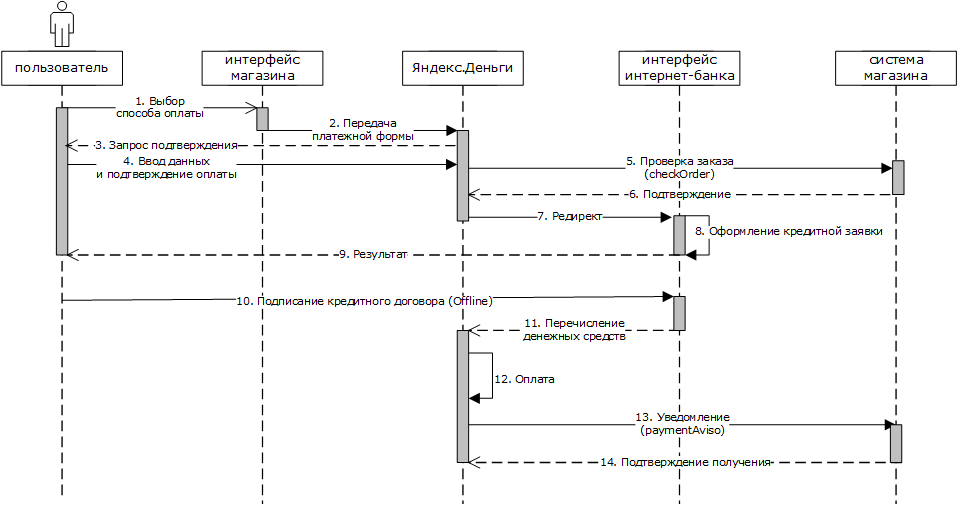 Steps 1 and 2 are the same as in the main scenario.
3-4. After getting the payment form parameters and determining the payment method, the user is additionally asked to enter the telephone and email address.
5-6. Yandex.Checkout executes the Order verification (checkOrder) request. At this step, the store puts a 7-day hold on the item that the user is planning to purchase with credit.
8-9. Yandex.Checkout sends the payment amount and optional product information to the bank that is providing the credit. To submit a credit application, the user goes to the bank's interface. The bank processes the application and informs the user and Yandex.Checkout of their decision.
10. If the credit application is approved, the user signs an agreement with the bank.
11-14. After it gets the money from the bank, Yandex.Checkout executes the Payment notification (paymentAviso) request. The merchant responds to the paymentAviso request, and then the user gets a payment result notification from Yandex.Checkout. The message is sent to the email address that the user entered during the payment process.
Note.
The payment form must have the parameters that are required for paying for an order by credit (see Form parameters).
From steps 7 to 11, the credit application can be canceled. If this happens, the merchant gets a Payment cancellation notification (

сancelOrder

) from Yandex.Checkout and un-reserves the product that the user intended to order.
When payment via KupiVKredit (Tinkoff Bank) is activated, early verification of order parameters is configured for the store. This means that for all payment methods, the checkOrder request is executed before redirecting the user to the external payment system website. This makes it possible to check the validity of order parameters before taking money from the user.
Tinkoff Bank recommends putting a special KupiVkredit button next to the payment button. This shows users that they can use credit to make the purchase, which improves the conversion rate.
If you want to show the monthly credit repayment next to the product price (for example, "Refrigerator for 3000 rubles per month"), the payment form should pass the

fixed_term

parameter set to

true

. In this case, the user can only get a bank loan for a fixed term of 12 months. And you can calculate the monthly payment amount and show it to users: it will be 10% of the product price.