Activating a store
To get started, you need to submit an
activation request
. You will get access to your personal dashboard, where you can fill out a form about your organization, choose the activation method, and make
technical settings
. If you can't access your personal dashboard, contact a Yandex.Checkout manager:
merchants@yamoney.ru
.
After you choose an activation method, you will get access to the Yandex.Money testing environment and test settings. Once any issues are resolved, you can access the settings to work in operating mode. The payment management feature (MWS) must be enabled separately.
Step 1. Choose the activation method and implement the protocol
Some Yandex.Checkout activation methods are more complicated to implement than others. You can choose from these main flows:
You can only use one of these activation methods at once. When you have made a choice, set it in your personal dashboard. This is where you can also specify parameters that are required for accessing Yandex.Checkout. Be careful: the settings are not the same for all the activation methods (more information about settings).
The number of available payment methods does not depend on the activation method.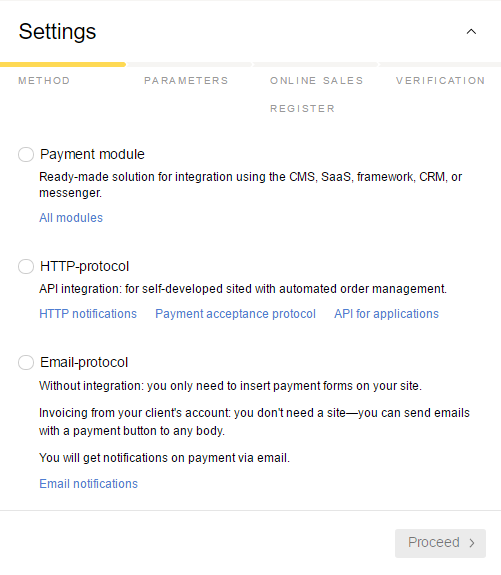 HTTP protocol

When using the HTTP protocol, the merchant can check order parameters online during payment. If you need to immediately show that the product or service has been paid for on the website, choose this option. In this case, additional development will have to take place on your side in order to integrate the functionality into your website and make it possible for your store to interact with Yandex.Money.
Email protocol

The Email protocol option does not involve direct communication with the service. Information about a completed payment is delivered in an email message. You don't need to develop anything: during activation, you get the code of the payment form, which you embed on your website.
Payment Module

In your Yandex Payment Solution personal dashboard, you'll see another activation method — the Payment module. The interaction flow is the same as over the HTTP protocol: notifications of operations are sent as HTTP requests. But additional development is not necessary, because the system developers have already done it for you. You just need to install or activate the ready-made module and configure the settings. The Yandex.Checkout site contains a list of ready-made payment modules for various systems: CMS, Saas, CRM, messengers and frameworks. If your system is in the list, you can use this activation method.
Step 2. Set up interaction with online sales register
Note.
This step is only required if you want to set up interaction with your online sales register via Yandex.Checkout. Omit this step if you independently send data for the receipts to your online sales register or issue receipts manually.
Yandex.Checkout can send data for the receipts to your online sales register upon successful payment. You can activate this feature under your personal dashboard: specify that you want to transmit the details for the receipts via Yandex.Checkout.
Step 3. Test accepting payments
If you plan to test how your store works, select the "I want to try test payments" checkbox in your personal dashboard when choosing the activation method. When your store is connected to the testing environment (demomoney.yandex.ru), you will get email with the test parameters. (The email is sent to the address for the technical issues contact that you set in your personal dashboard.) These parameters will also appear in the Settings section of your personal dashboard. Enter them in a payment form on your website.
You can use test data to independently test payments.
After each test payment, you should get notifications by email or over HTTP (depending on the activation method you chose). You will also get a daily report by email (at the address you entered in your personal dashboard when you chose an activation method).
Note.
Parameters for getting notifications in testing can be different than for operating mode.
Step 4. Switch accepting payments to operating mode
You can switch the payment form to operating mode if:
Your store successfully received notifications of all test payments.

The daily report you receive by email includes all necessary payment data.
If everything is in order, our technical specialists will follow through with setting up your store on the Yandex.Checkout side and will tell you what the required parameters are.