Payment settings
Turn on payment to simplify the purchase process for customers. They will be able to place orders and pay for them right on the Turbo pages. To do this, turn on the
Yandex.Checkout
service and register in the
Online payment system
.
Примечание.
Online payments on Turbo pages are charged by the Yandex.Checkout
standard rates
.
Conditions for setting up the payment form and using the personal account for recipients are available in the Legal tools section.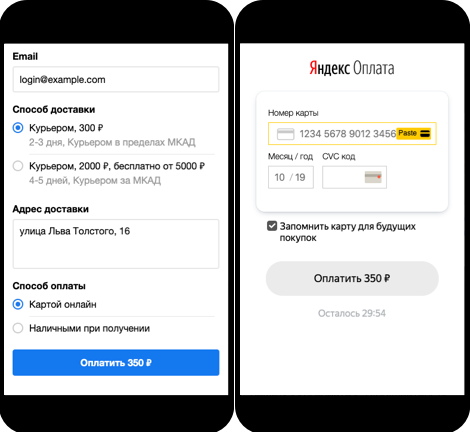 Enabling payments
To enable payments:
Set up sending the VAT rate using one of these methods:

In the

VAT

element of the YML file.

In the

section in Yandex.Webmaster. This VAT will be applied to all products by default.

In Online payment system, go to the

Payment access

page and copy the ID.

In Yandex.Webmaster, go to the

page.

In the

Online payment system

block, enter the ID and click .

Go back to the Online payment system, the

Access to payment

page and confirm access for the

turbo

service.

In Yandex.Webmaster, on the

Save

.

page, turn on online payment and click

Check how payment works in the example on the right. When placing an order, the

Online with card

payment method should appear.
If the payment is off, find out the reason in the Online payment system. After you solve the problem, payment on Turbo pages will turn on automatically.